I have not quite settled into the rhythm of school days yet, but I'm close. I made the kids get up this morning to see how well getting them off to school would be. I woke them up about an hour before the bus time. Thankfully, it went off without maximum
hitchage
, although we had one grump and one juicy squirt to deal with at the time they would be about to get on the bus (which would have been a scramble otherwise.
So I didn't get them off to school today, so I found myself distracted, and between that and work, I didn't have the energy for a full post. So in lieu of better posts when I have kid-free hours, let's just get down to the rat killing:
Justice Secretary Kenny
MacAskill
is
Asshat
of the Week!
I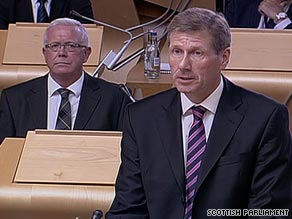 nitially
, when I heard about the release of the convicted
Lockerbie
bomber for so-called "compassionate" reasons, I was not excessively shocked or angered. As it was, I was still rather young and all I remember is the image of the front of the plane on the ground. But as I got around to reading more, especially finding about the bastard's hero's welcome back in Libya, I started to get that feeling that I get when I watch 9/11 footage: Unreasoning rage. The kind that makes me wish they hadn't released the bomber, and instead let him die in agony (no pain
meds
) lying in a pool of his own shit.
And if you think that's exaggeration, I assure you it's mild compared to what my exaggerations are. And
82 percent of Americans
at least agree that the terrorist piece of shit
should
have died in Scotland (with 8% fucking clueless and 10% proving they should be killed by terrorists).
And it's all because of the Scottish Justice Secretary Kenny
MacAskill
. This is the
asshat
that made the decision and then hid behind the book of procedures to justify his rank
asshattery
. And except in the America-hating circles and the Scottish and British governments (who have been unmotivated to correct the
asshat's
mistake), I can't find a single person that thinks he made even a remotely good call.
Hell, there's even a boycott site (
boycottscotland

.com
) to visit. And while I don't see myself changing a whole lot of lifestyle choices (because I don't buy anything that would be boycotted anyway), it's not a bad idea.
Now at the risk of sounding angry, may Kenny
MacAsscrack
be repeatedly violated by dogs for his
asshattery
, and a plague of hairy testicles shower down upon the
asshat
enablers of the world (Especially in Great Britain and Scotland).
In the war we are in (and yes, the War on Terror continues), relenting and allowing known terrorists to go free, or showing any sympathy to shitheads that do (and to their credit, the Obama administration hasn't), is a sure path to defeat.