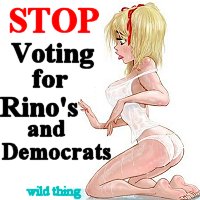 When the news broke that Arlen Specter was finally leaving the GOP for his true home in the Democrat party, I had a few thoughts.
First, I was indifferent, because he and fellow
RINOs
Olympia
Snowe
and Susan Collins were going to
hose
the GOP regularly for the next two years, when unanimous dissent (with substantive alternatives) is the only hope that the GOP had, as a party, to influence anything over at least the next two years (through the relentless use of the filibuster). That's gone once Minnesota finishes it's mistake and commits political suicide with the running joke of Senator
Smalley
.
Second, as the realization that the GOP had ABSOLUTELY NO SAY IN ANYTHING (except in blocking justices) brought me both a small measure of pain and a large measure of relief. Pain
because
now there's not even the chance that the
RINOs
could unite and stop something wholly repugnant (which was already a long shot after the infamy of the Bullshit! package). But the relief comes from the fact that conservatism flourishes in the GOP when they get tired of being out of power. You don't get more out of power than this.
So that was all well and good and good riddance you
jizzlobber
. I hope the
Dems
turn your untrustworthy ass out and run a real candidate
.
Then the senile
RINO
-turned-jackass reached the rank of supreme
asshattery
(too late for me to give him the award for the week):
Specter Claims Kemp Would Be Alive if Congress Better Funded Medical Research
Let's just look at the quote:
"If we had pursued what President Nixon declared in 1970 as the war on cancer, we would have cured many strains. I think Jack Kemp would be alive today. And that research has saved or prolonged many lives, including mine."
Very nice. Try to score political points on the party you
buttfucked
, on one of its icons who just died, when there's no guarantees concerning cancer, he was probably getting some kind of treatment, cancer research has been well-funded for decades, and you know nothing of what happened. I think the pic at the left says it all.